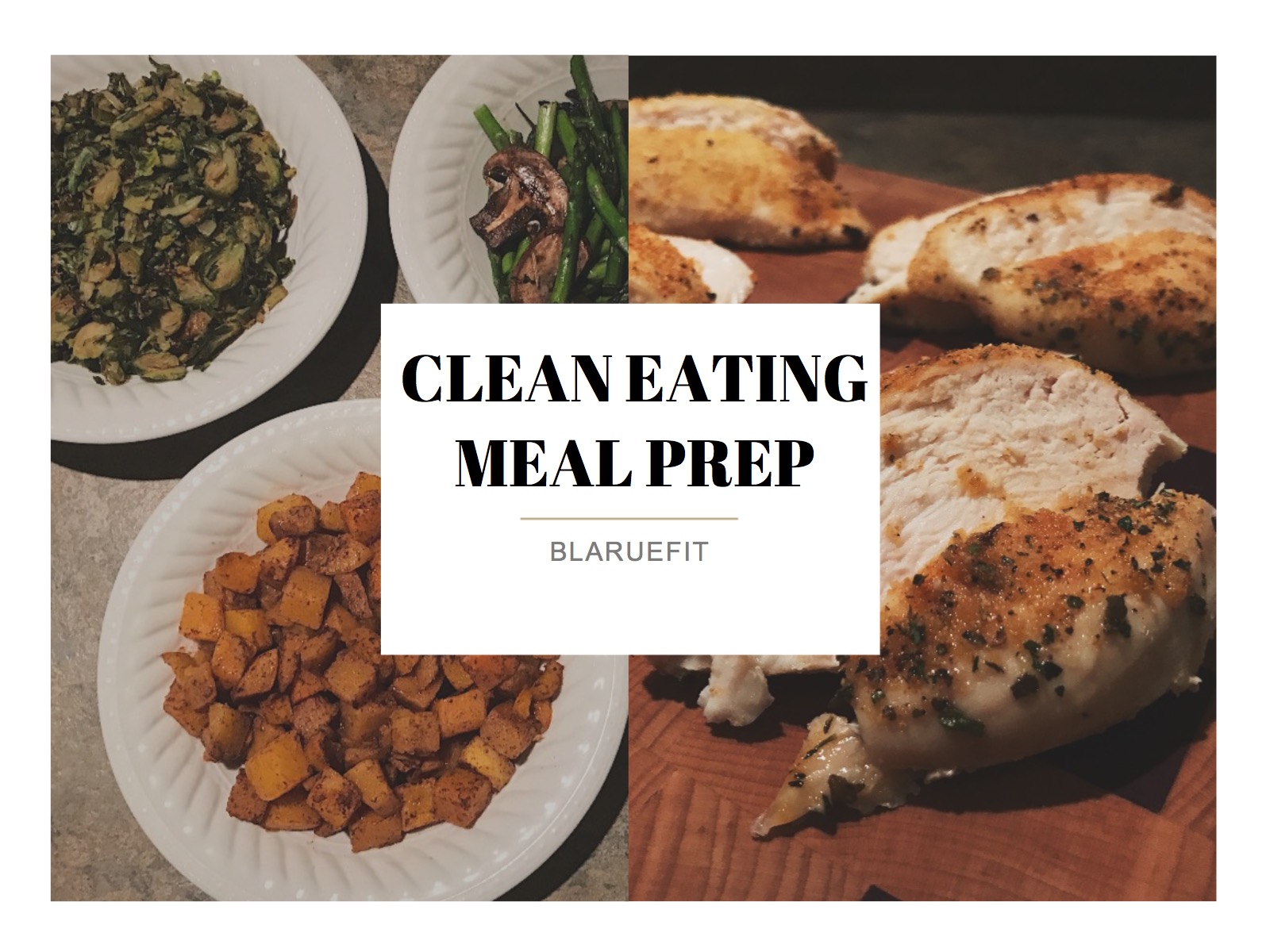 Welcome back blaruefit family! Today I am bringing you a post about meal prepping when eating a clean diet. Meal prep is a LIFE SAVER when you are trying to reach your fitness goals, no matter what they may be. Let's be honest... here in this fast paced world sometimes the last thing we think about is what we are eating for our next meal. Or like me all you are thinking about is your next meal (I am a hungry girl) but even lost in food thoughts you don't always have time to take during the day to make a nutritious meal. Preparing food ahead of time is going to allow you to reach for that already made healthy meal rather than a quick fast food meal that is full of grease and unwanted ingredients. Right now I am following a strict clean eating diet, meaning the foods I eat are pretty much the same each week. However, I am always trying to find ways to keep things interesting through the use of seasoning and different food combinations. Below is the food that I prepared to get me through this week! What I chose to do is cook in bulk and store each type of food separately, rather than making each individual meal (which if I know I have a busy week ahead I will do). By being able to pick and choose which foods I want during the day I am giving myself some more room for options/combinations throughout the week. I hope this post gives you some ideas you can use in your own kitchen! Enjoy!
---
CLEAN EATING MEAL PREP 
    I love turkey! It is low in fat, high in protein, and has a great taste. I usually buy ground turkey but this week I switched it up and went for the tenderloin (the macros for both are the same). I coated the turkey with "Garlic Lovers" seasoning from Flavor God and baked it in the over, thats it! So simple and delicious.
My main protein sources that I stick to are chicken and turkey, however my diet allows me to have lean beef on occasion. This is my first week since I began my bikini prep that I am incorporating beef into to my diet, and let me just say I am REALLY excited for these burgers. All I did to prepare this 96% lean beef is add some garlic powder, salt, and a dash of Worcestershire sauce. Then I formed my burgers and tossed them in a frying pan coated with non-stick cooking spray.
Baking my chicken breast has been my favorite way to prepare chicken these past few weeks. Mainly because by baking the breast they stay much more tender and juicy (not to mention it is so easy to prepare). Take your chicken breast and coat the top with your choice of seasonings. This week I used 4 different Flavor God seasonings, this way I will have some different flavored chicken breast to eat throughout the day. Lay your chicken breast on a large baking sheet covered with foil and pop them in the oven at 400 for about 30 minutes (depending on how thick they are). Voila, yummy juicy chicken!
Pretty self explanatory... but I just love plain white rice! :)
Last but definitely not least, beautiful veggies. I chose to make four different types of vegetables to really give myself some variety and be sure I am getting all types of micronutrients (very important). Top left is roasted brussel sprouts that I just salted and peppered and popped in my oven. Top right is asparagus and mushrooms that I cooked in a frying pan with non-stick olive oil spray, granulated garlic, and rosemary (YUM). Bottom left is roasted butternut squash with cinnamon. I eat this almost every week, it helps curb my sweet tooth. Bottom right is green beans and red onions sautéed with minced garlic.
---
I hope you enjoyed this post and try some of these recipe ideas for your weekly meal prep! If you ever have questions, need guidance, have post suggestions, or just want to reach out please comment below or feel free to email me at blaruefit@gmail.com.
Wishing you all a happy and healthy week,